Robin Acerson



Robin as he appears in Season 3.

Gender:
Male
Age:
14
Nationality:
American
Hometown:
Hollywood
Professional Information
Profession:
 
Student
Affiliations:
 
Hollywood Arts, Johnson Middle School
Friends and Family
Creator:
Totaldramacale
Friends:
Tori Vega, Cat Valentine, Jade West
Robin Acerson is a character on Victorious. He is the youngest person at Hollywood Arts (because it is a part of a transplant act) and is 14 years old (as of late season 3). He is best friends with mostly girls. He is an excellent pianist, singer and actor. He is present for all episodes (except for Stage Fighting and Sleepover at Sikowitz's). He commonly wears a black beanie (up until season 3). His best friends are
Tori
, Cat and Jade. As shown in iParty With Victorious, Prom Wrecker and The Diddly-Bops, he is an excellent singer. Robin left Hollywood Arts in late season 3, for the transplant act he was in expired, and thus had to go back to his old middle school.
He is so far the only character to wear a beanie.
His locker is 25 chocolate bars (with built-in AC so they won't melt.)
Appearances (in fan media)
Edit
Robin's Hat
Rebbie
Jade West and the Specil Diamond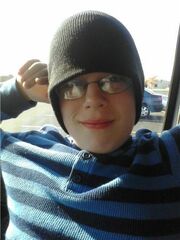 Ad blocker interference detected!
Wikia is a free-to-use site that makes money from advertising. We have a modified experience for viewers using ad blockers

Wikia is not accessible if you've made further modifications. Remove the custom ad blocker rule(s) and the page will load as expected.