Isabella Kayden
&nbsp

Isabella Kayden a character introduced in the episode "The New Kid In School". She is shown to be very girly.She is friends with Cat,Robbie,Andre,Beck,Tori. She is frenemys with Trina and Jade.she is made by VictoriousCatLover.Her singing can be heard hear:
AppearanceEdit
Her hair is dyed pink with purple highlights.Her natural hair color is Blonde.She Dresses dark but is still girly.She Looks a lot like Jade (in Season 2).
In Season 3Edit
In Season Three Isabella Appears As A Main Recurring Character.She Appears In Almost Every Episode Of Season 3.She now has straight hair and instead a many purple highlights she only has one int the front of her face.
How to make herEdit
In Her Teens:
Get A Picture of Jade and color on pink hair and add purple highlights.
In Her Youth:
Add Blonde hair to a picture of Elizabeth Gillies when she was young
'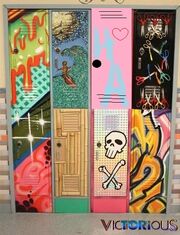 '
'
'
Apearences in EpisodesEdit
The New Kid In School
Secret Crushes
Make It Happen
My Solo
(I,VictoriousCatLover, will write these episode soon)
Season 3:
Same Episodes As Penelope Rain
Ad blocker interference detected!
Wikia is a free-to-use site that makes money from advertising. We have a modified experience for viewers using ad blockers

Wikia is not accessible if you've made further modifications. Remove the custom ad blocker rule(s) and the page will load as expected.